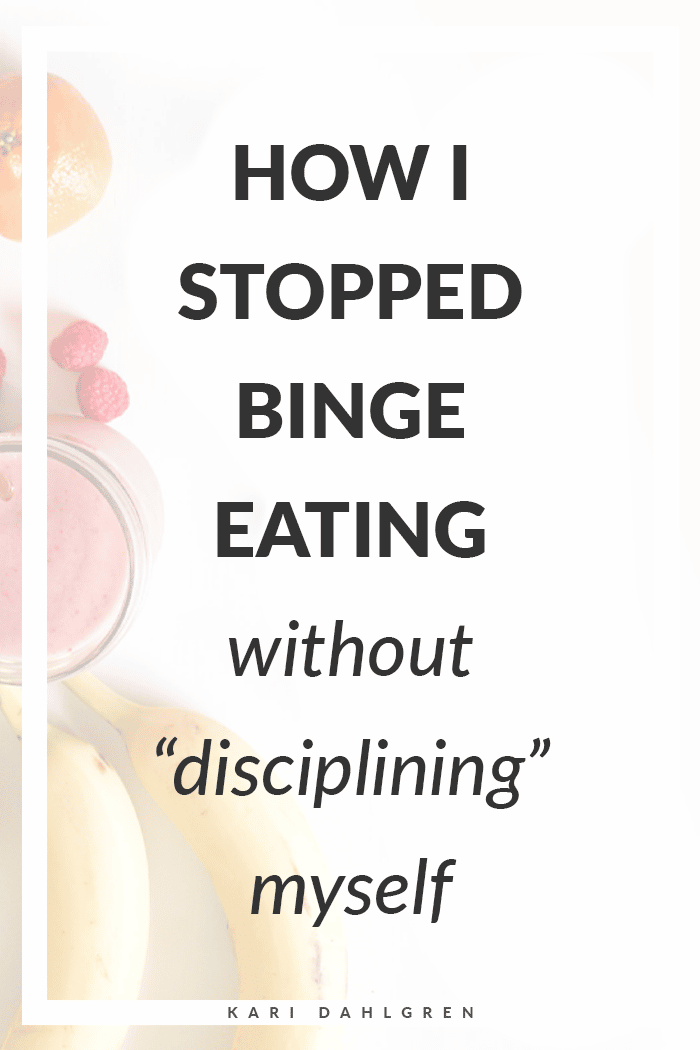 I'm a total weirdo with how I stopped binge eating.
Because I did it through this super airy-fairy sounding concept of "Feeling My Feelings." (Yeah, light up the incense and ommmm with me now.)
But honestly, it worked.
After decades of struggling with binge eating, I got myself to stop with this psychological/spiritual practice of Feeling My Feelings.
You may have heard me talk about it before, because I preach about it aaallllll the time. It's the foundation of my psycho-spiritual approach to weight loss.
It can be difficult to practice, though, when you have no idea what "Feeling Your Feelings" looks like. It's different for everyone.
So today, I'm going to paint that picture for you.
First, I'll explain how this whole Feeling Your Feelings thing can help you stop binge eating.
Then, I'll share 2 examples from my recent life where I applied this concept and stopped myself in the middle of a binge.
Ya'll ready for this?
The Cause of Binge Eating
Here's the big idea:
Behind every binge is a feeling that you don't want to feel.
Sometimes it's obvious, like with depression, where binges are the epitome of "comfort eating."
But often it's not obvious. Often, it just seems like stress or cravings or lack of discipline. But it's not.
Often, our thoughts are so much louder than our feelings that we don't even know that we're avoiding ourselves.
We detach from our emotional body and seek physical pleasure from food in attempt to numb the pain (when really we just make it worse).
The way to end binge eating, then, is to practice self-inquiry and make space for your feelings. 
How to Stop Binge Eating
Self-inquiry simply involves asking yourself, "What is the feeling that I'm avoiding with food?"
A great tool for this is the Stop, Drop, and Feel method where you pause your binge (which can be difficult, and this article explains how do to it), drop into your body, and ask yourself what you're feeling.
Create space for those feelings to just wash over you.
Once you give your feelings the attention they deserve, they fade away. And the desire to binge fades away, too.
This sounds overly simple – so simple it couldn't possibly work – but it works for me and I know it can work for you, too.
(Also, just because it's simple doesn't mean it's easy. This method requires hard work and practice, but it's the best path towards Normal Eating and achieving your Natural Weight that I know.)
To help you get a sense of what this looks like, I'd like to share a couple examples from my recent life.
Example 1: Stuffing Myself with Chips and Salsa
A few weeks ago, I hit a pretty deep low. It wasn't the darkest time of my life, but it was pretty damn dark.
In the midst of my panic, I sought insight from a psychic for the first time ever. My session with her blew my mind because she immediately brought up something painful from my past: a manipulative nanny that I lived with as a child.
The psychic told me that, because my parents never believed me when I told them how she manipulated me, I don't trust others and I don't trust myself.
This broke me into pieces, and I started sobbing because it was true.
Cracking Open
My session with the psychic was very insightful, and it left me sort of "cracked open" and all these painful feelings were swimming about. Grief was one of them.
Of course, I didn't know it. All I knew is that I wanted chips and salsa… LOTS of chips and salsa. And I did not want to stop when I was full. Red flag.
Since I've been practicing the psycho=spiritual approach to weight loss for over a year, I had the self-awareness to stop in the middle of my binge and ask myself, "Woah, Kari. This binge is a sign that something's not right. Let's sit down and see what comes up."
So I heeded my own and advice to Stop, Drop, and Feel in order to stop a binge.
Stopping, Dropping, and Feeling
As soon as I laid down on my couch and turned my attention toward my feelings… I started sobbing uncontrollably.
There was so much pain within me that I had no idea was there. And it wasn't until I stopped and paid attention to myself that I began to feel it.
I was grieving without knowing it. My binges were my attempt to comfort myself, unbeknownst to me.
As they say: What you resist persists. Not feeling my pain led to binge eating. And by allowing myself to feel the feelings that I was trying to avoid, they started to go away.
And I'll be damned: My desire to keep eating chips and salsa COMPLETELY went away too.
And this is how Feeling Your Feelings can help you stop binge eating and lose weight.
Example 2: I Want Candy! Waah!
And the journey continues:
In order to heal the wounds of my past, I signed up for the Hoffman Process: a week-long retreat where you "unlearn" all the negative behavior patterns from your childhood.
Before you begin the Process, there is homework that you need to do, which involves digging around in your past, and inevitably some painful memories come up.
As I was doing some of my homework just this morning, I found myself getting sad over the memories that were coming up.
When I went into the kitchen to get some tissues, my mind blurted out, "I want candy!" And I almost had some.
But I am trying to follow the Eating Guidelines and only eat when I'm hungry and stop when I'm full. And since I wasn't hungry, I knew my body didn't need it.
But I was confused: Why did I want candy when I wasn't even hungry? What was actually going on?
Then I realized that I was trying to use the candy to soften the discomfort of the bad memories that were coming up.
Stopping, Dropping, and Feeling – Again
So, I stopped what I was doing and laid down on my couch to make space for Feel My Feelings.
And sure enough, sadness bubbled up. And then tears. So I let myself cry and I hung out there for a few minutes to let it all wash over me… and poof. The desire for candy was gone.
Self-inquiry like this is sooo important because it's never obvious where your cravings come from.
When my mind was screaming for candy, my feelings were faaar from my mind. 
By dropping into my body and feeling those feelings, I was able to stop myself from binge eating.
Self-inquiry will always save the day.
The Lessons Here
Binge eating feels really chaotic, but it's really simple to understand:
There's a feeling deep down within that you don't want to feel.
By getting curious about your feelings and making space for yourself to Feel Those Feeling, the desire to binge will go away.
Self-inquiry is a skill that takes practice. You won't be able to master this in a day. I've been practicing for over a year now, and I'm still working on getting back to Normal Eating.
But each time I Stop, Drop, and Feel, I can sense myself getting a little better at this whole psycho-spiritual weight loss thing.
How did this land for you? Can you relate to any of this? Or do you still think I'm a total weirdo? Please leave me a comment below! I'd love to hear from you.