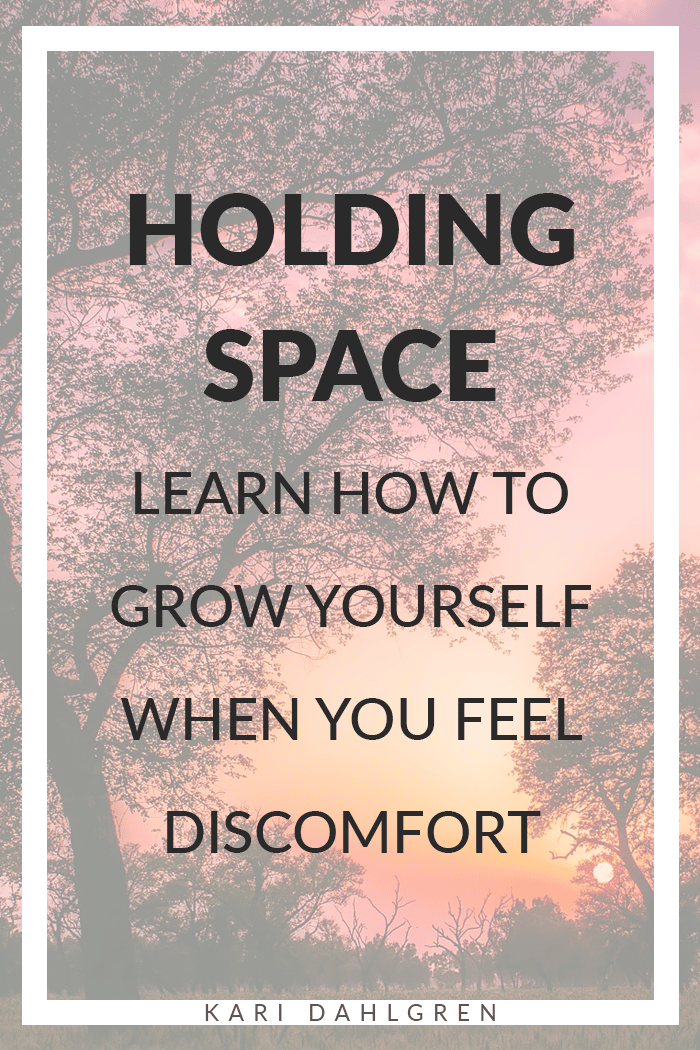 Are you familiar with that raw feeling of discomfort?
Perhaps you feel a tightness in your chest when you fail to people please. Or maybe it's a sinking feeling in your gut when someone lets you down.
During those moments, it's really easy to shut down. In fact, avoidance is our biological response to pain. We shy away from the pain instead of looking at it.
But you need to be bigger than your reactions if you want to live a big life.
The next time you feel that rough, raw feeling of discomfort, hold space for it. And in that space, let it expand. Discomfort won't kill you. And, best of all, the more you let it in, the more manageable it becomes.
So just hold space and let yourself be uncomfortable.
This is how you will learn to love your experiences: by making space for them in your life.
To love something, make space for it in your life; and in that space, practice acceptance.
Learning how to love all your experiences, not just the good ones, will serve you well. It will expose you to the elements of the world, and yes, it will hurt.
But getting hurt is a good thing, sometimes. It means that you're showing up – you're not hiding anymore – and that takes courage.
Developing the courage to feel your feelings is the best personal development work you will ever do.
Ever since I started feeling my feelings instead of numbing them with food, alcohol, or excess, my life has dramatically changed.
I feel like a flower softly unfolding. And it hurts. It's excruciating to open yourself up to the pain that you never let yourself feel before.
But opening is the only way to blossom.
And the day came when the risk to remain tight in a bud was more painful than the risk it took to blossom. -Anais Nin
So walk into the room with your pain. Open yourself up to discomfort. Don't overthink it, either. Just hold space.
Hold space and feel your feelings. Then practice self-compassion, self-love, and self-acceptance with whatever comes up.
Allow yourself to feel your truth – the whole truth, not just the piece of truth that you prefer.
This is the best way that I know to grow yourself and elevate your life.
Are you willing walk into the room with your discomfort and hold space for it?
It's never as hard as we think. And while it might hurt, it will open you up to experiences that are far more brilliant than anything you've ever seen.