Losing weight by counting calories sucks.
If you've tried and failed before, there's a whole world of people who can relate to you. Including me.
There are many reasons why calorie counting doesn't work for most people. For example,
It fails to address the lifestyle issue
It fails to encourage the consumption of good foods
It fails to teach you anything besides religiously reading the 'calories' section of nutrition labels
The method is flawed, and it just flat-out sucks.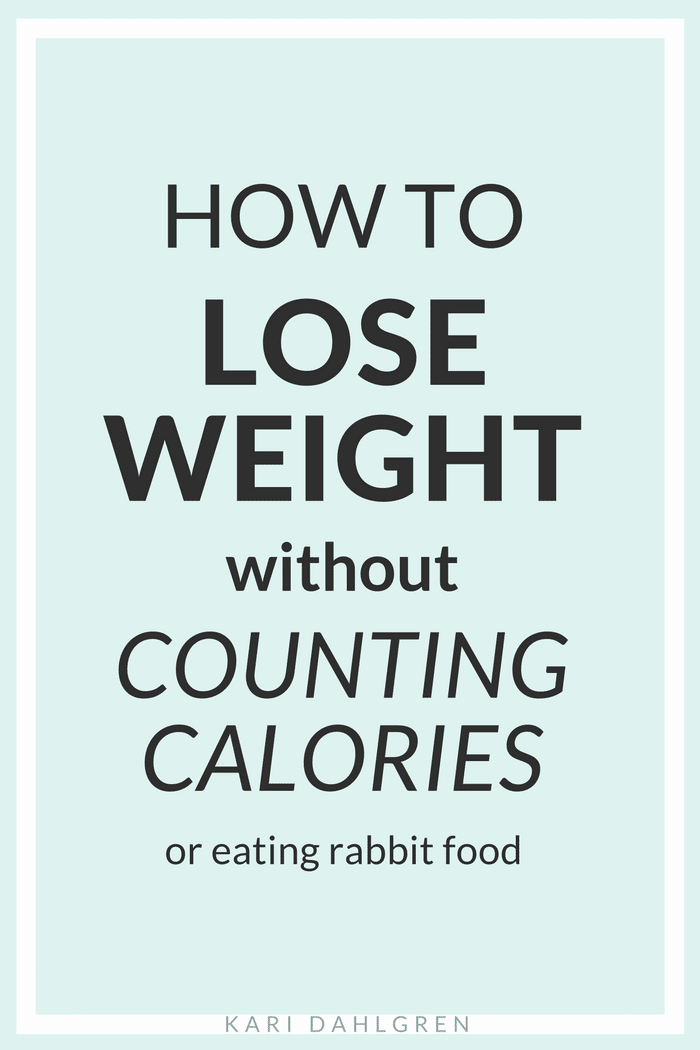 So I wanted to introduce a much simpler, kinder way of shedding excess weight.
You don't need a list of superfoods, you don't need to count calories, and you don't need to try too hard. You just need to understand what foods nourish and support you and what foods don't.
And that's what this How-to-Lose-Weight-Without-Counting-Calories-or-Trying-Too-Hard Matrix is for.
It makes healthy eating easy.
Then, in all that newfound ease, you'll develop good eating habits that support a healthy weight – without trying too hard.
How to Lose Weight without Counting Calories or Trying Too Hard Matrix
Here are some general examples of how you'll feel in each quadrant.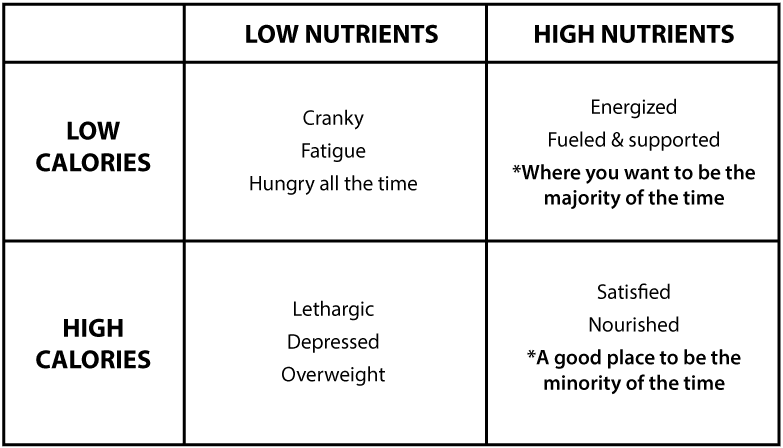 Here are some example foods for each quadrant.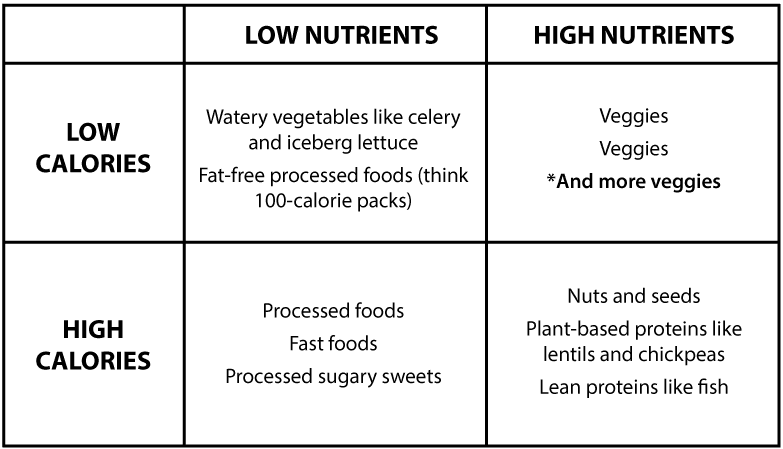 *Please note that watery vegetables are not bad and won't make you cranky. (Except maybe when they're the only thing you eat…)
The One Rule
To lose weight without counting calories, you only have one rule: Focus on eating high nutrient foods.
Okay, the One Other Rule
And in order to save your willpower, focus on being in that nutritious right column 80% of the time. Then, allow yourself to be in the left column 20% of the time. This creates necessary wiggle room for you to live your life.
Like chocolate ice cream on a warm Sunday afternoon. You can totally have that while you're trying to lose weight.
The idea may seem preposterous to many, but if it fits into your 20% and you're busy eating veggies the rest of the time, then have at it!
Yum.
Doing the Work
Eating nutritious foods becomes easy when you truly appreciate which ones are good for you and why.
This awareness can be cultivated through some good, curious research through the Nutrition Data website. (I'm a HUGE fan.)
It gives you a complete breakdown of all the vitamins, minerals, and amino acids in different foods. And if you're a nerd like me, you'll think it's really cool! (It's how I discovered that red potatoes are actually pretty damn healthy.)
And if you aren't a nerd (no hard feelings), just stick to eating mostly veggies and whole foods and you'll be in great shape.
No Rabbit Food Required
Now I know what you're thinking. "But I don't want to eat and order salads all the time! I want to eat real food!"
And your concern is understandable.  But eating nutritious foods does not mean that you always have to order a salad!
You can eat whatever you want – especially the foods you love – as long as it sits comfortably in the nutritious column of the matrix. And if it doesn't, then you know to enjoy it sparingly.
If you naturally just don't like healthy food, that can be changed. You're an adaptable, flexible human being.
We change all the time.
Just be sure to change slowly. Start by replacing one 'empty food' with a more nutritious food, and leave everything else the same.
Then, as your taste buds adjust to the slightly healthier stuff, you can continue to scootch further and further down the health food spectrum – until you're eating rabbit food and you like it!
Seriously. It happens.
And it's great.
But Veggies Are Required
There's no way around it.
Veggies are the most nutrient dense, low calorie foods; meaning you can eat a crapton of them and still be in excellent shape!
And if you hate veggies, there's still hope 😉
Just introduce them slowly (anyone can get used to spinach in their smoothie, seriously), and you'll be craving more in no time.
Don't Make the Common Mistake
When trying to lose weight it's very tempting to skip the good fatty foods (like avocados and nuts) – which can be a big mistake! It can lead to a macronutrient deficiency (fat), which will lead to binges (because your body wants the fat) and a downward spiral.
Some people thrive on a low fat diet – and if that's you then keep at it! – but most people don't. In fact, most people, like me, go a little crazy when they don't eat fats because fats are an essential building block for hormones.
And when your hormones get out of whack, you get out of whack.
So preserve your happiness and enjoy good, fatty foods in moderation. Just remember to eat when you're hungry and stop when you're full, and eat a ton of veggies while you're at it!
How to Lose Weight without Counting Calories or Trying too Hard – in One Sentence:
By introducing nutritious, non-'empty' foods slowly into your diet without doing anything radical like restricting fats or fun, you can maintain a healthy weight without counting calories or trying too hard. 🙂