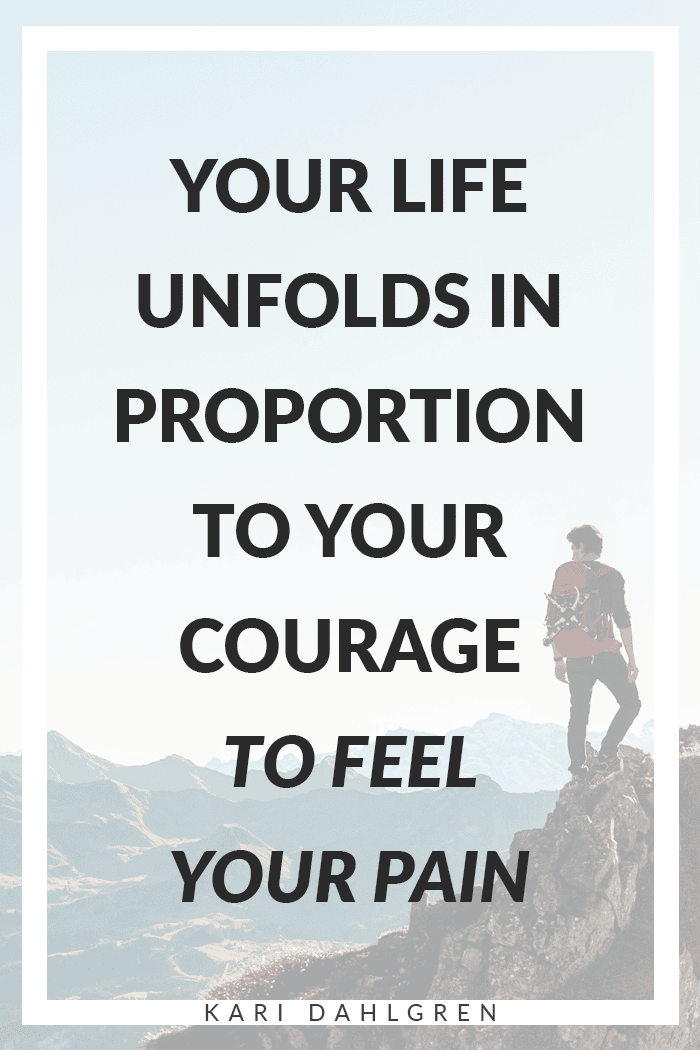 Are you willing to feel your pain?
Most of us aren't, honestly, because of a biological reaction that we're wired with: seek pleasure, avoid pain.
But the problem is that nothing happens when we only chase pleasure and avoid pain. Great progress is not made by being comfy, cozy all the time.
Rather, the greatest progress you will ever make is when you learn to stay open and feel your sticky, heavy feelings no matter what.
It took me a while to learn that skill. I used to default to "shut down and hide" until I consciously put effort into learning how to feel my pain.
And I still haven't mastered it. But each month I get better and better, as long as I'm focused on remaining aware and open to feeling my feelings.
So far, this has led to so much personal growth and happiness (yes, happiness) in my life, that you simply MUST try it too.
This Is Personal Development Priority
Every single problem we ever face in our lives is caused by the inability to feel our pain.
Whether it's the pain of embarrassment at work, the pain of an argument with a loved one, the pain of feeling ashamed of your body – all of that pain becomes LESSENED when we open ourselves up to it instead of shutting ourselves off.
Because when we close down, we resort to unhealthy coping mechanisms.
…At work, we bite our tongues and "people please" instead of standing up for ourselves.
…In our relationships, we walk away instead of having the conversation that really needs to be had.
…With our bodies, we numb our pain by overeating because it's the only comfort we have.
All these coping mechanisms help temporarily relieve the pain, but never permanently. It only makes our pain grow progressively worse.
Because the further we remove ourselves from our pain, the greater the pain becomes.
But when we have the courage to feel our pain instead of habitually running from it, we grow stronger. And our problems lessen – if not go away altogether.
Feeling Your Pain Is Good
Learning how to feel your pain will be the greatest gift that you ever gave yourself. It sure was for me.
It will open you up to your full experience in this world instead of just the parts you "like."
And sometimes it sucks when you choose to feel your full reality because pain hurts.
But over the long haul, you're actually improving your life. Because when you're willing to feel your pain, there's nothing that you can't do.
Nothing.
The only thing that ever holds you back is the pain that you don't want to feel.
And once you master the art of feeling your pain – suddenly there's nothing holding you back.
How Pain Improved My Life
For me, I used to feel the most pain about my body.
I used to think that I was fat and resorted to yo-yo dieting in attempt to be thin (which never worked).
Then, when I discovered this whole "feel your feelings"/"feel your pain" concept, I started practicing it.
Instead of resorting to food to numb my pain, I trained myself to recognize my pain and feel it instead of numbing it.
And slowly, through my willingness to feel my pain, I finally got myself to stop overeating.
And I made MAJOR peace with my body as a result.
Practice, Practice, Practice
Now, these results didn't come all at once. Like I said, it was slow…
Because learning how to feel your pain takes practice just like any other habit.
But the more you practice, the better you get at it.
It never gets easy – because feeling your pain will always be difficult – but it gets easIER through practice. And time.
You've probably spent decades practicing the art of running from your pain, and it's a deeply ingrained pattern (that probably happens at a subconscious level by now).
So it's going to take a while to override that habit and form a new one.
Be patient and just keep practicing.
The more you can stay aware and feel your pain when it comes, the closer you get to achieving your goals.
Feel Your Pain
Learning how to feel your pain is one of the hardest, most rewarding tasks you will ever do on your personal development journey.
It will empower you to do the difficult things that are necessary for your personal growth and well-being.
Whatever you're struggling with right now – the struggle can be lessened by a willingness to feel your own pain.
Try it. Practice it. And master it.
And there will be nothing you can't do.