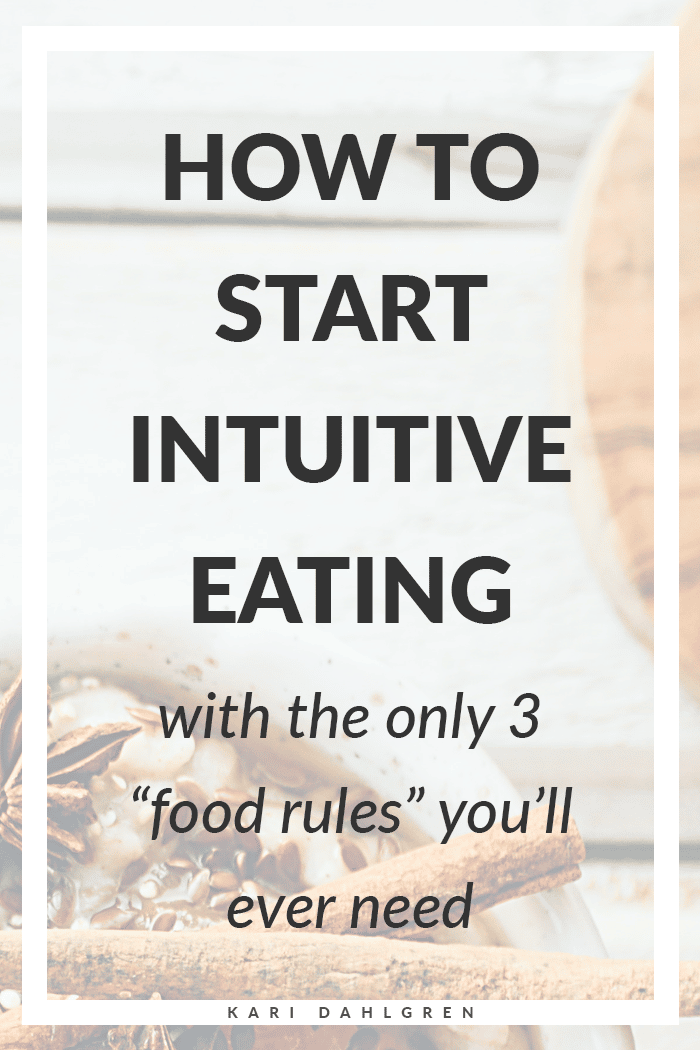 If you're trying to lose weight, and diets and exercise have not worked in the past, then you NEED to try intuitive eating.
Because while dieting completely fucks you up by pushing you into your head, intuitive eating pulls you back into your body.
And when you're in your body, you're connected to your body's infinite wisdom that already knows how to be its natural weight.
Intuition: Your Body's Infinite Wisdom
By definition, intuition is:
"A thing that one knows or considers likely from instinctive feeling rather than conscious reasoning." 
Your intuition is that little voice you hear when you to listen to the quiet melody of your body instead of the harsh demands of your mind.
Your intuition can get you to your natural weight all on its own. The knowledge is already within you. You just need to learn how to tap back into it.
This can be difficult, though, if you're coming from a binge eating background with Diet Mentality hardwired into your brain.
So I'll cover that part first, and then dive into the Eating Guidelines.
The Reason Why We Self-Sabotage
Diet Mentality means that you're always "in your head" about what to eat. You follow rules instead of following your intuition.
Your body says, "I want a bite of that strawberry pie," but your mind says no.
So you battle with yourself until you can't stand it any longer and then, exhausted from the battle and completely drained of willpower, you self-sabotage and eat the entire pie. That's the hell of Diet Mentality.
So let's unlearn it, and replace it with a much healthier set of rules: The Eating Guidelines.
What Are the Intuitive Eating Guidelines?
The Intuitive Eating Guidelines are:
Eat exactly what appeals to you when you're hungry (this includes both healthy and unhealthy food)
Stop when you're full (this might include wasting some food)
Feel what you're feeling when you're not hungry (this definitely requires some discomfort)
Notice that there's not a shred of advice about what to eat – only to eat when you're hungry and stop when you are satisfied.
I think there is so much wisdom in this! Because sometimes your body will crave healthy foods, and sometimes it won't.
Releasing the Fear of Unhealthy Food
If your body wants something unhealthy, like a strawberry milkshake, then for Pete's sake, have a strawberry milkshake. It won't make you fat unless you eat past fullness.
The voice in your head may scream absurdities like, "You can't eat that, there's too much fat! Sugar is evil! It's too late at night! It's too early in the morning! It will slow down your metabolism!"
But as long as you're following the Eating Guidelines, you won't gain weight – and you'll probably stop craving things like strawberry milkshakes after a while.
That's the cool part: As you continue to eat intuitively, your body will gravitate towards healthier and healthier food because it simply makes you feel better.
Your body knows what foods make you feel like shit and what doesn't. And after a few months of intuitive eating, it's quite likely that you'll actually start to crave things like salads and fresh fruit and mostly whole foods.
That's not a joke. It happened to me and many others who have adopted intuitive eating.
You just have to keep trusting yourself and the process.
Starting Your Journey
This is it, you guys. This is your tool to unlock everything.
Practice the Eating Guidelines and observe what comes up. Be prepared for lots of uncomfortable feelings, and stay with yourself through all of it.
Eat when you're hungry, stop when you're full, and feel your feelings when you're not hungry. Develop trust in your body's wisdom, and allow it to bring you back to your natural weight.
Don't freak out when you crave unhealthy things. Trust that, with time and practice, you will slowly start to gravitate towards a healthy diet.
Do you struggle with intuitive eating? Leave me a comment below and I'll help coach you through it!