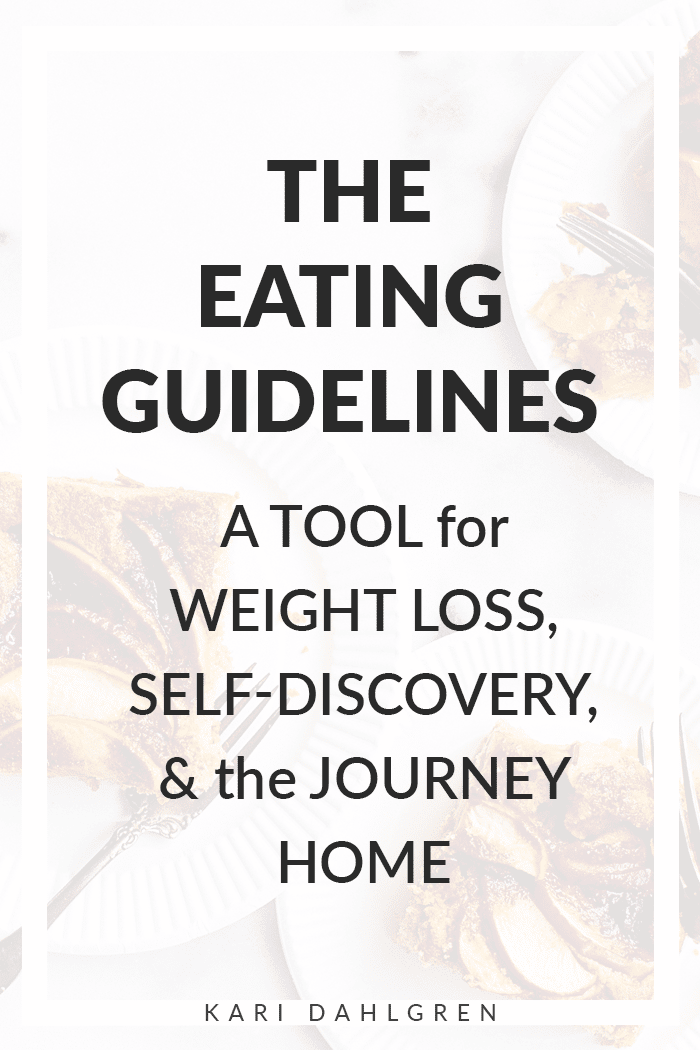 The Eating Guidelines are the #1 tool for weight loss.
They will help you achieve your natural weight – no doubt about it.
But the benefits go much deeper. They can help you get rid of the obsession with food and heal the (most likely) broken relationship that you have with yourself.
(Sorry to make such a touchy assumption, but that was definitely the case for me.)
The Eating Guidelines are your way back home – and by "back home," I mean back to your natural body weight and your divine nature. Back to an easy, relaxed state of being that you fully deserve to feel.
However, knowing the way back home is much different than actually starting the journey. Once you start using the Eating Guidelines, you may hit some turbulence. Okay, maybe a lot of turbulence.
So, to help prepare you for this life-changing journey, this post will guide you through the obstacles that I personally faced so that you can have a smoother adventure than me. (You're welcome ?)
What are the Eating Guidelines?
All credit for these guidelines go to my personal hero, Geneen Roth.
I was first introduced to these guidelines in her book Women, Food, and God (which you need to read ASAP because her books have changed my life).
These are the eating guidelines that came from that book:
Eat when you are hungry
Eat sitting down in a calm environment (this does not include the car)
Eat without distractions (including radio, television, books, intense or anxiety-producing conversation, or music)
Eat what your body wants
Eat until you are satisfied
Eat (with the intention of being) in full view of others
Eat with enjoyment, gusto, and pleasure
Notice that there's not a shred of advice about what to eat – only to eat when you're hungry and stop when you are satisfied.
I think there is so much wisdom in this!
How the Eating Guidelines Help with Weight Loss
If your body want's apple tarts and milk for lunch, then freakin' have apple tarts and milk for lunch.
The voice in your head may scream absurdities like, "You can't eat that, there's too much fat, it's not the right time of the day, it will slow down your metabolism, it will make you fat."
But as long as you're following the Guidelines, you won't gain weight. (And you'll probably stop craving things like apple tarts.)
Because your body already has all the wisdom it needs to maintain a healthy weight as long as you listen to it. 
The Eating Guidelines help us relearn how to listen to our bodies instead of our minds; minds that have been polluted by a society obsessed with quick fixes and the latest trending diet.
This is how the Eating Guidelines bring you home.
As you work on listening to your body, you can eat whatever appeals to you – like apple tarts – without gaining weight because you're…
…only eating the apple tart when you're hungry
…eating it sitting down in a calm environment (not in the middle of a conversation at a party that you aren't particularly enjoying)
…eating without distraction (it's just you and the tart, baby)
…eating the tart because it's what your body wants
…going to stop eating the tart when you're satisfied – even if that means leaving a third unfinished…
…not eating like a crazy person who has starved herself of apple tarts for so long that she's eating all of the tarts in sight…
…eating that damn (single) tart with total enjoyment and pleasure because – freakin' ay! It's so good!
Yes, you can eat that damn tart and feel good about it – and feed good in your body.
In this way, the Eating Guidelines keep you sane in a world full of advice about what to eat and when to eat it.
And that's my favorite part.
My Personal Advice to You
These guidelines are simple, but very, very, very hard to follow, especially if you have trouble with compulsive or emotional eating. But I'm here to help.
For the rest of this article, I'm going to share my own personal experience with the Eating Guidelines and how to use them to change your life, like they did for me.
I'll offer up 6 pieces of advice that helped me on this journey, in the hopes that they'll help you too.
So, first things first…
1. You Will Absolutely Feel Resistance to the Guidelines – and That's Okay
If you struggle with compulsive or emotional eating (or simply overeating in general) and you start practicing these guidelines, you will absolutely, utterly resist them.
At least, I sure did. And I know I'm not the only one who has or will.
For example, when I was a compulsive eater, I always accompanied my at-home meals with Netflix – breaking guideline #3.
But eating without distraction was not an option to me. Netflix and food just felt too good to separate. It felt like I deserved to have my comfy distractions while I ate.
And beliefs like this are exactly how the Eating Guidelines will bring you back to yourself.
By examining my resistance, I learned about my unhealthy relationship with myself. My food issues were so deep and painful that I would rather be anywhere else besides inside my body while I'm eating.
As soon as I recognized this, it allowed me to start healing my awful relationship with myself.
But it's not like you can go from habitual distraction-eating to non-distraction-eating overnight. The core problem (i.e. the awful relationship I had with myself) had to be addressed first.j
Patiently practicing the Guidelines – along with the all of this advice – will help you get there.
2. The Guidelines Will Slowly Heal Your Relationship with Yourself
The Eating Guidelines show us exactly where our resistance is. And where we find resistance, we find the path home – the path back to ourselves.
Resistance is a glorious opportunity to dig deep into our pain and uncover our true selves.
When I dug into all of my limiting beliefs through the Why Weight workbook (also by Geneen Roth), I realized that didn't use Netflix just as a distraction from food, but also as a distraction from the life I didn't love. (Ouch.)
I was using a distraction to distract me from another distraction… Yuck.
This is why it's imperative to get rid of these layers.
Once we remove the layer of eating inappropriately (i.e. by breaking the Guidelines), then we can focus on the real layer – the real reason why we eat when we're not hungry.
The more we practice the Guidelines (for me, it was eating without distraction), the closer we get to our truth.
The more we practice and question our resistance, the more we learn and grow.
And in time – with heaps of practice – we can slowly achieve our natural weight. We can slowly move closer to a lifestyle where the Eating Guidelines are no longer a struggle, but a natural way of being.
This is something that we all deserve – a life without the drama of food.
3. Self-Inquiry Is Vital to Your Success
The more we peel back our layers, to closer we get to the gunky stuff underneath that needs to get cleaned up. It's uncomfortable and challenging, and that's why we must do it.
Because we always have two choices in life: stay in comfort, or move into growth.
The Eating Guidelines will make you so uncomfortable and push you so far into growth – the kind of growth that you cannot achieve without discomfort driving you there.
We achieve this by uncovering the limiting beliefs that we subconsciously carry and then ironing them out.
The way we uncover these beliefs is by following the Eating Guidelines – and if we can't follow them, we simply ask why. This is called self-inquiry.
The deeper you dig, the more of yourself and your neuroses will be uncovered, which is painful and magical and oh so necessary.
Because we cannot heal a problem that we do not know exists.
The Eating Guidelines – practiced alongside self-inquiry, patience, and compassion – will help you find those problem and then find the healing you so desperately deserve.
4. You Cannot Pick and Choose
Each Guideline builds on the rest. They're ALL necessary. You cannot pick and choose which ones you want to follow.
If you think that you can heal your relationship with yourself and food while plugging yourself into Netflix at dinner time, you're wrong.
The Eating Guidelines prevent you from running – and any time you feel like running is the perfect time to tune in and take a look at what's really going on.
If you ever find yourself avoiding the Guidelines, know that something is off and use self-inquiry to find your way back.
5. Time and Practice
The Eating Guidelines are not based on diet mentality. They're based on a reality where food is no longer a source of drama and obsession and pain.
The Eating Guidelines reflect how we would eat if we didn't have a messed up relationship with food; if food was not love.
The process of following the guidelines daily is tough and ungratifying (at first!), but that's how all change occurs. That's how all habits are formed: uncomfortably.
If we try to change our behavior – like eating without distractions when we've had a long-time history of food + Netflix – then we will be very uncomfortable.
But if we stay with it, that new behavior will become natural in time.
It's all about practice and surrender – surrender to the discomfort that is inseparable with change.
6. This Is Your Everything
The Eating Guidelines have everything to do with your relationship with food and everything else in your life.
Because the way we do one thing is the way we do everything.
For example, if you overeat because of a 'scarcity' mindset (i.e. I must eat everything in sight because there might not be any left tomorrow), then chances are that you have a scarcity mindset about everything else, like finances and relationships.
It's absolutely crazy how intimately connected our relationship with food is reflected in our relationship with everything.
This is what makes the Eating Guidelines so difficult to follow – because you're dealing with all your problems at once, not just the 'food thing.' The food thing is just a layer on top of everything.
So when you hit resistance, remind yourself that you're taking on an immense task – you're pretty much overhauling your entire belief system and habits – and it takes time and patience.
You have what it takes to slow down and find your way back home.
Starting the Journey Home
This is it, you guys. This is your tool to unlock everything.
You now have the opportunity to practice the Guidelines and observe what comes up. You now have the opportunity to look at what's really going on underneath and heal it.
The Guidelines are your roadmap home, and practice is the essence of this journey.
Are you willing to dedicate yourself to all 7 guidelines? If not, ask yourself why.
Where is your resistance and what is it telling you?