You can live a life you absolutely ah-dore. Your potential is already there.
And if you're literally already there, then this list is what you need to do more of. If you aren't there yet, then this is your starting place.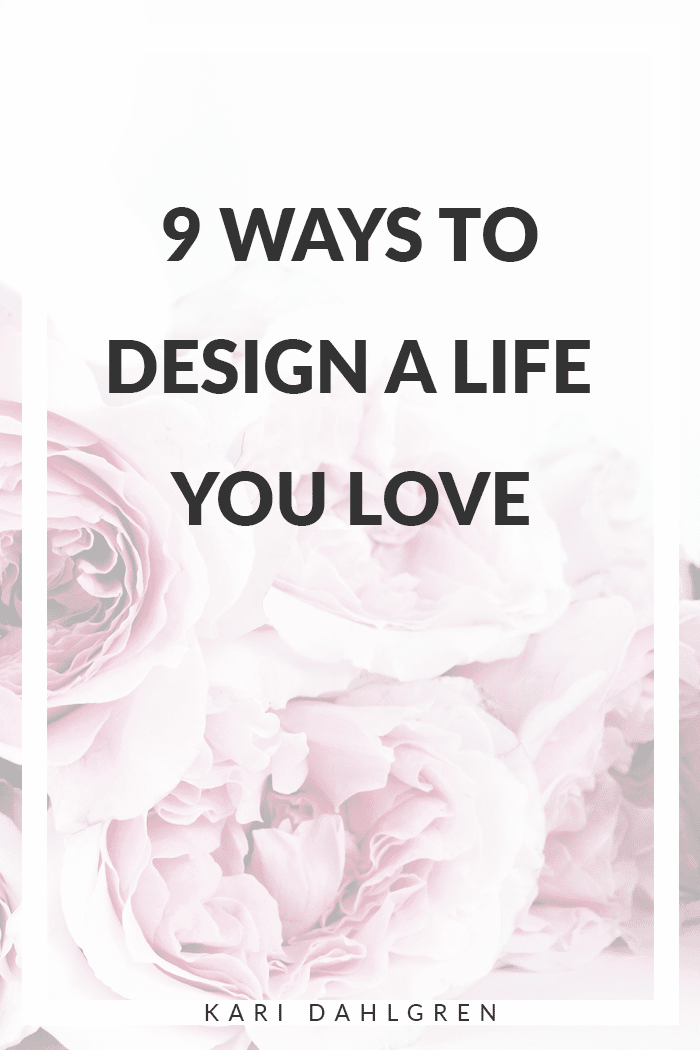 These are the changes that impacted my life the most in the last few years. They are the choices that helped me reduce my stress and increase my time freedom and, most importantly, create a life I love.
Here's what you need to do:
9. Realize that you DO have the time (yes, we're crushing the biggest excuse first)
One of my biggest excuses for not living a life I loved was the I didn't have the time for the things I enjoyed. Work and social obligations consumed all of my free time (or so this was my excuse).
But then I had a very important realization that time is a choice.
I wasn't doing what I loved because I was choosing to do other things.
And I can hear your argument already: "But I have to go to work. I have classes to attend or a side hustle to run." And that's fine. Your argument is solid.
You have responsibilities, and they're getting in the way.
But what this really comes down to is priorities and energy management.
8. Prioritize your time and manage your energy
Yes, work is a priority that you can't get rid of. It must be done. You have to feed yourself and put a roof over your head. And if doing this is sucking up all your free time, then it's time to bite the bullet. It's time to manage your time.
During your little pieces of down time, don't allow yourself to numb out to Netflix or do other mindless things (especially overeating). If your excuse is that you don't have the energy, then honor that truth.
If you have no energy, then do nothing. Don't half-ass doing nothing by watching Netflix. That's still something. You need to be 100% dedicated to your truth: you're tired, so do nothing.
Then, watch how it restores you and motivates you to start working on the things you love.
Because if you're anything like me, you're restless. That dream is always sitting at the forefront of your mind, and when you let your mind be still, that dream emerges clearer than ever.
In that moment, you realize that you have the energy to get working. And if you don't, it's worth the $4 coffee that's going to keep you sharp.
7. Make your to-do list more attractive
Creating a life you love involves work, and that requires to-do lists – which suck.
They seem to become never-ending sources of energy-draining tasks that – when left unchecked – can drain your soul, too. And that's why adding fun to your to-do list is essential.
Yes you need to go grocery shopping and do the laundry and meal prep and get shit done at work. But you also need to have some fun. And you need to schedule that fun into your to-do list.
That way, you get a sense of enjoyment from your to-do list, and it will encourage you to stick with the other important tasks on that list.
This means you will be more inclined to start building that empire, and have fun while you're at it.
6. Identify your 'shoulds' and choose wisely
There are many, many things that can get in the way of living a life you love. Sometimes they are out of your control, other times they're perfectly in your control and you just don't know it.
I used to believe that I didn't have the time to create a blog and publish every week. I thought that my social obligations were preventing me from living my dream.
But the truth was that my choice to participate in social obligations was killing my dream. And that choice was always in my control.
Once I learned to differentiate between which obligations added meaning to my life and which ones didn't, I made the logical choice: to do more of what adds meaning and less of what doesn't.
It sounds simple and obvious, but it's always worth pointing out because it's so easy to forget. 
Living the dream is a choice. Learning how to make that choice is a skill.
All skills can be learned through time, effort, awareness, and a good mentor, like me ?
5. Foster your closest relationships
You already know how your closest friends make you feel, and that feeling is the foundation of a beloved life.
Humans are social creatures, and we need to give ourselves permission to be social while differentiating, yet again, between people who bring us up and those who bring us down.
Again, the logic is simple: spend more time with those who uplift you and less with those who bring you down.
This means saying a big, fat NO to toxic people. You already hate being around them, so why torture yourself by being around them more?
They don't need you. If you're around them less, they will survive. (And if they can't, then woah don't listen to this advice, and go be there for them!)
But most often, we aren't doing anyone a favor by hanging around people that we don't even like. It hurts our integrity and eventually it will hurt their feelings.
In order to live a life you love, you need to love yourself enough to say no to toxic people.
4. Choose quality over quantity for (almost) everything
This could mean that you spend more time with less people – and that's a good thing.
In my personal opinion, having a close group of friends who have your back and uplift your spirits is way better than being friends/acquaintances with everyone.
This 'quality over quantity' principle applies to almost everything, too.
For food, it's better for your body. (Think, quality grass-fed steak and broccolini vs. quantity frozen pizza.)
For clothing, it's better for your wallet. (Think, a few quality work shirts vs. a dozen bargain ones that will come apart in a few months.)
For work, it's better for your bottom line and schedule. (Think, more deep work and less busy work.)
Essentially, doing less stuff you don't like and more stuff you do like is better for creating a life you love! It doesn't get much simpler than this.
3. Fully embrace a few guilty pleasures
Ice cream. Scrolling through Pinterest. Taking a walk in the middle of the workday. Putting some peanutbutter into that post-workout shake.
These are of few of my favorite things. And I enjoy all of them GUILT-FREE. How?!
Because since I've given up all the extra B.S. that was getting in between me and my dreams, I am a highly productive mofo. I get shit done.
Which means that I can fully enjoy the little moments that I carve out for myself throughout the day to enjoy BEING ALIVE.
What's the point of being highly productive if you can't fully enjoy the extra time you save?
Keep your head in the game. Get shit done. And don't forget to have fun.
Remember the mantra: What we put into the little nooks and crannies of our lives are what matter.
2. Do more of that thing that sets your soul on fire
Each time I go surfing, I get butterflies. Each time I sit down to write, I don't get butterflies but I definitely get excited about all the stuff I share with you.
Surfing and writing are what set my soul on fire.
If I don't have at least one of those things included in my week, I'm bummed. That's why I make sure to carve out time for them any and every chance I can get.
And if it means saying 'no' to an enticing social engagement, I will say no. At this point, it's a matter of honoring that commitment to myself and my purpose.
And when you fully commit to a life you love, it will become a reality.
Love and commitment go hand-in-hand like that.
1. Hone your spiritual practice
I would be lost without my spiritual practice. It's what keeps me grounded and centered with my eye on the prize. It keeps me moving forward, and it helps me recenter the moment I fall off kilter.
Everyone needs a spiritual practice.
For me, it includes yoga, meditation, and mirror affirmations. All of these practices change my brain in positive ways, and they are habits that are now easy to execute.
To create a life you love, you need to make self-love and self-care a habit. You need to start a loving self-care practice.
You don't have to get fancy with it, all you have to do is get started.
Perhaps you need more bubble baths. (Because who doesn't love bubble baths?!) Or perhaps you need to take time to meal prep some quality meals that will make your body feel loved.
Whatever it is that sets you soul on fire and makes you feel loved and cared for – do more of it.
Because when you love yourself, life loves you back.
It's as simple as that.