I won't beat around the bush with this one: Gratitude is the best way to cultivate a life of abundance.
When you're feeling grateful, you're focused on what you already have, not what you want.
And that's magic right there.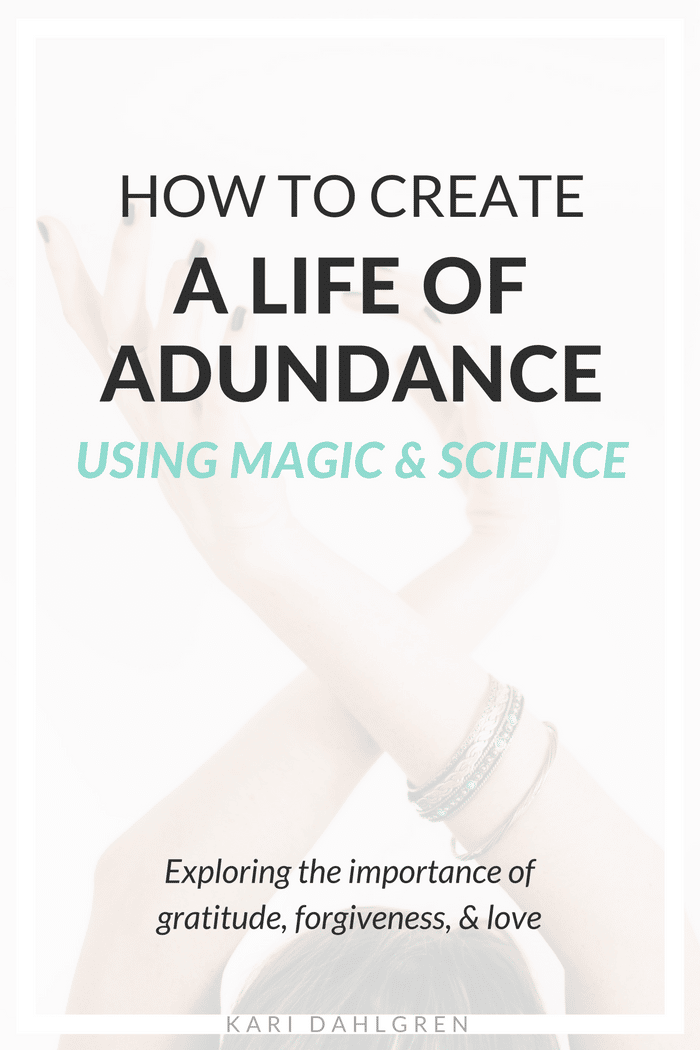 When we want more – whether it's a better job, lover, house, whatever – we become focused on the void. The thing we don't have. And we never get it because our attention is focused on the wrong thing.
We shouldn't focus on the void if we want to attract abundance. We should focus on abundance if we want to attract abundance!
So let's do that.
Enter Through Contentment
When we're content, we're focused on our current abundance – the thing we already have – and we begin to attract more of it.
In this way, gratitude naturally stems from contentment.
When you're content with what you have, you don't yearn for more. And when you don't yearn for more, you naturally attract more.
If that doesn't make sense, then SMILE. 🙂
Smile at the divine way this universe works! Because that's the way it will always be.
When you want more – don't think about wanting more. Instead, stop and think about what you already have, and from that place of gratitude, you will naturally attract more.
And the best part is that by the time you've cultivated feelings of gratitude… I bet you won't even want more anyway.
Other Beautiful Things
Cultivating gratitude will attract other beautiful emotions as well, like love and forgiveness.
And that's even more magic.
You can solve any problem in your life with gratitude, love, and forgiveness.
Where there is lacking, sow gratitude.
Where there is pain, sow forgiveness.
Where there is discomfort, sow love.
When you focus on these emotions (for lack of a better word, as they're more like states of being), your potential will magnify… like crazy.
You will attract even more love, even more gratitude, and even more forgiveness – and that's what abundance IS.
Abundance IS a wealth of love, gratitude, and forgiveness!
It's a beautiful, relaxing place to be – and it's problem-free.
All Problems Are Solved
If you can live in a state of gratitude, love, and forgiveness, you will never have any problems. Ever.
I guarantee it.
With gratitude, the car crash on the freeway that causes you a delay will no longer breed impatience. Instead, you feel grateful that it wasn't you.
With forgiveness, the fight that you and your lover had no longer fills you with resentment. Instead, you choose to forgive and move forward.
With love, your crazy relatives no longer fill you with rage. Instead, you shower them with unconditional love and watch that love transform your relationship.
That's simply how it works.
You get more of what you focus on.
Building a Grateful Brain
Now that I've covered things from a magical, universal point of view, let's move onto the science, shall we?
At the heart of this phenomenon is neuroplasticity, the means by which your brain molds and shapes itself to your attention.
Your brain makes it physically possible to get better at what you repeatedly focus on by strengthening its neural pathways in the areas of repeated focus.
For example, mathematicians have thickened grey matter in the areas of their brain responsible for arithmetic and reasoning. The same goes for meditators and the part of their brain responsible for attention, emotion regulation, and mental flexibility.
Our brain gives us more of what we focus on!
It's so simple, yet seldom practiced.
So, let's put it into practice.
Exercise: Daily Gratitude Journal
When I started a daily gratitude journal, it changed my life.
I already considered my self a deeply grateful person (I believe that my childhood guilt-complex naturally led to a gratitude-complex – but that's another story), and starting a gratitude journal helped me find even more things to be grateful for.
How to do it:
Every day, write down at least 5 things you're grateful for. If you want, try to write down everything you're grateful for. But make your minimum 5. Everything else is extra.
How to make it a habit:
All habits need cues. So link your gratitude journaling to a specific daily event, like going to bed or waking up.
This way, the event will trigger the habit, and you're more likely to stick to it.
Why you should do it:
Each time you focus on gratitude, you get better at feeling grateful. That's how the brain works.
As you continue to write in your gratitude journal daily, you will find that you naturally notice more things to be grateful for – without even trying.
That's what happens when you become skillful at being grateful.
And that's how true abundance is born.
How to Cultivate a Life of Abundance – in One Really Long Sentence
Instead of focusing on getting the things you don't have, focus on the things you already have and your brain will naturally get better at finding more things to be grateful for, which will naturally attract more – more love, forgiveness, and gratitude, which can solve all your problems – and create true abundance while most likely releasing the need for more in the first place!
Boom.
Boom… splat! That wasn't my best shot.
I dare you to write a better one-sentencer than me!
Leave it for me in the comments 🙂