Get a free 45-minute psycho-spiritual weight loss coaching session by signing up below.
If you already know me, go right ahead and sign on up below!
If you're not so sure what this is all about, you can find more details below, you sexy beast.

Let me back up a bit and re-introduce myself: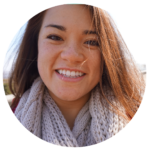 Hey, I'm Kari, a psycho-spiritual weight loss coach.
The "psycho" refers to the psychology of weight loss, and the "spiritual" refers to the self-discovery that happens along the way.
My work is similar to intuitive eating with an extra focus on tackling the psychological blocks that often stand in the way.
If you'd like to get an idea of my style, check out my articles on psycho-spiritual weight loss and this YouTube video on how I stopped binge eating.
There's a lot more I could say, but I'll keep it simple: my approach is weird.
And if you're ready to finally feel normal around food, then trying something weird might be exactly what you need.
Why Is This Free?
If you're anything like me, you're probably skeptical of free shit, so let me lay all the cards out on the table:
I'm currently trying to rack up hours for my coaching certification. Some of these hours need to be unpaid, and that's where you can help me while I help you.
I'm not a noob at this, but I need to clock some unpaid coaching hours before I can ramp up my business. I'm taking my sweet time with it because, well, I'm picky about my clients!
However, if you stumbled upon this page, I know we will be a great fit. Because if any of my weird content resonated with you, then we are totally like-minded, and we'll get along great.
3 Steps to Get Your Free Shit
To sign up for free coaching, simply follow these steps:
Sign up below and I'll send you a link to my calendar
Schedule a call with me on a Saturday or Sunday in June
Hop onto that call when the time rolls around and we'll take off like rockets
Don't worry – all these steps will be emailed to you once you sign up.
So… are you down?! I'll see you on the other side!
Sign Up Below for Free Coaching