Get a free 45-minute psycho-spiritual weight loss coaching call in June by signing up below.
Spots are very limited, so get in the door before they're all booked up!
(More details below)

If you're not sure what all this is about, please let me back up a bit and re-introduce myself: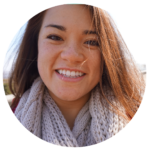 Hey, I'm Kari, a psycho-spiritual weight loss coach.
The "psycho" refers to the psychology of weight loss, and the "spiritual" refers to the self-discovery that happens along the way.
A lot of my work revolves around discovering the subconscious beliefs that cause you to self-sabotage and unlearning them to allow weight loss to happen naturally.
My work also revolves around the concept of Feeling Your Feelings instead of overeating, which is something that most weight loss coaches don't even talk about. I'm confident that this is a game-changer.
There's a lot more I could say, but I'll keep it simple: my approach is weird.
And if you're tired of bashing your head against the wall from constantly sabotaging yourself, then trying something weird might be exactly what you need.
WHAT YOU'LL GET OUT OF YOUR FREE SESH
In our free 45-minute session, we're going to take a wider look at how you're stuck with your weight loss efforts and why you might be keeping yourself there subconsciously.
The biggest benefit of working with a coach is gaining a new perspective from someone who isn't you (i.e. someone who isn't in your life all the time and isn't biased or blind to obvious patterns).
From my experience with getting coached, the first session is very valuable for gaining insight into how to get unstuck.
Consider it a "launching" session where I can analyze your situation and set you up with homework to do after our call so that you take the action necessary to see results.
This is my passion you guys! Trust me when I say that you'll leave this call feeling hella motivated.
3 STEPS TO GET YOUR FREE SHIT
To sign up for free coaching, simply follow these steps:
Sign up below and I'll send you a link to my calendar
Schedule a call with me on a Saturday or Sunday in June
Hop onto that call when the time rolls around and we'll take off like rockets
Don't worry – all these steps will be emailed to you once you sign up.
So… are you down?! I'll see you on the other side!
SIGN UP BELOW FOR FREE COACHING!