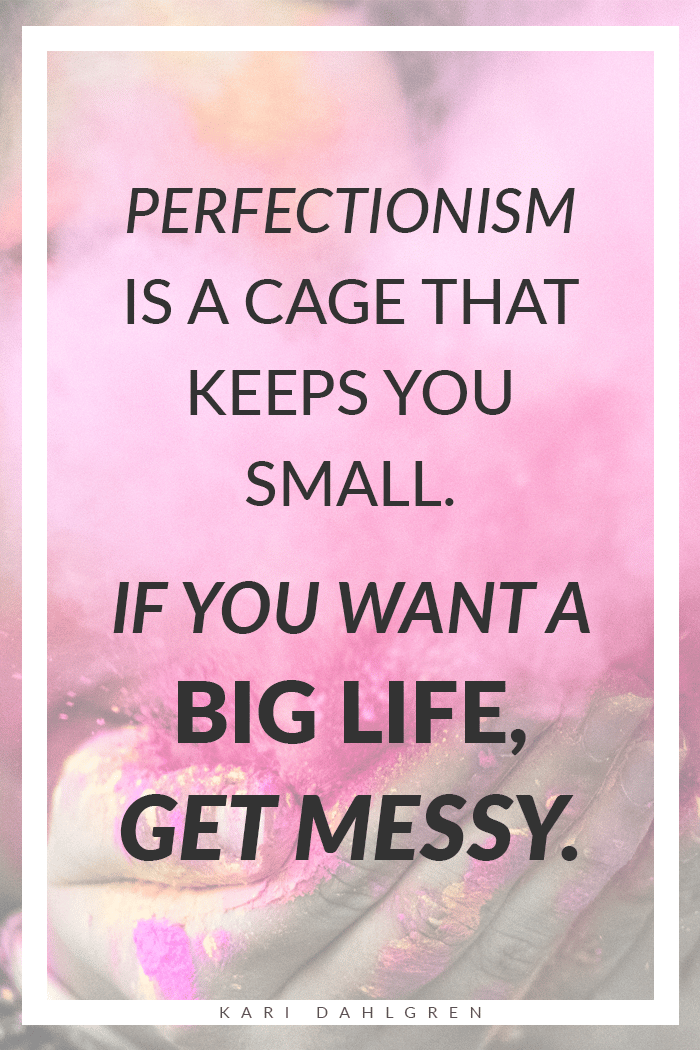 Perfectionism is exhausting.
Constantly thinking and planning ahead, which perfection requires, leads to stress and anxiety. So why do we bother? Why torture ourselves?
We do it to look good. We please and perfect to (try to) maintain a pristine reputation; figuring that if we hide our flaws, we can avoid pain.
But what if perfection protection is actually keeping us small, as a consequence, creating the very pain that we're trying to avoid?
Perfectionism Keeps You Small
Perfectionism is a cage that stunts your growth.
When you're limited to looking good, it prevents you from trying new things – because new things can be clumsy and lead to failure, which is a perfectionist's worst nightmare.
But failure is necessary for growth and expansion. No one goes through life without making mistakes. Sometimes looking clumsy, awkward, and stupid is necessary for expanding.
But when we avoid risk and failure, we consequently avoid growth and new experiences.
Life happens at the edge of your comfort zone.
And that edge is messy and terrifying and oh so attractive.
Imperfection Is Messy, Authentic, and Attractive as Hell
When you let go of perfectionism, you'll create a bit of a mess.
But a messy life means that you're trying new things, taking calculated risks, and flowing with spontaneity. It means you're being authentic! 
Perfectionists, like myself, are so terrified of ruining their reputation that we forget that AUTHENTICITY is also an attractive look.
For example, try to think of someone that you consider perfect. (S)he does everything super well and rarely seems to struggle.
Do you feel close to that person? Probably not. Although (s)he might be awesome, it's difficult to truly feel connected because there's no authenticity there.
"Perfect people" are only "perfect" because they aren't sharing their flaws and imperfections, and it's actually unattractive.
When people are open and honest with their struggle, they're crazy attractive and so easy to love!
Let Your Flaws Be Loved
So, put down the shield of perfection. Let the world see your struggle; your beautiful, messy struggle. Chances are, they'll love you for it.
That's what happened to me when I started this blog. I put (what I thought were) my darkest, most unattractive parts of myself out there for all to read, and I wasn't sure how people would respond. But people adored me for it. They admired my bravery, and I think they found it attractive.
This shocked me because, before that leap of faith, I was over here hiding my flaws because I thought they were unattractive and unloveable! Most perfectionists have it backwards like this.
When you put down the shield of perfection, you'll learn that you never really needed it.
This Beautiful, Messy Life
The more you embrace imperfection, the more authentic you can be. And the more authentic you are, the bigger risks you'll be willing to take.
Your life unfolds in proportion to your courage to be vulnerable and take risks. Putting down the shield of perfection is both vulnerable and risky, but it will expand your life like you never imagined.
When you stop trying to look good all the time, you actually end up looking better. Because imperfection makes life a little messy, but messy is authentic, and authenticity is very attractive.
Embracing imperfection also give you courage to try new things and expand your life instead of keeping yourself small.
So put down the shield, and step into this beautiful, messy life.
We're waiting for you.