Sometimes it's hard to see how enough we are.
We become fixated on our flaws and lacking instead of our worthiness and wholeness. Not because we want to, but because our brain gets in the way.
And in my opinion, allowing the brain to control our beliefs without our permission is unacceptable.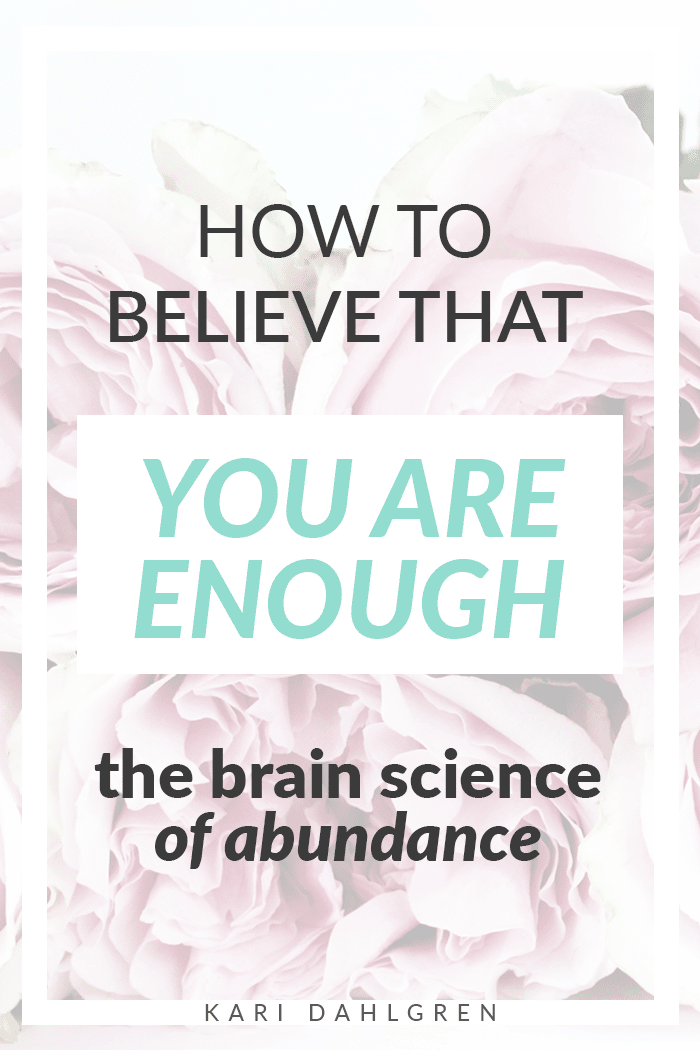 What IS acceptable is understanding how the brain influences our beliefs, and then using that knowledge to create better beliefs. Ones that we give our brain full permission to use.
This way we can finally see ourselves exactly as we are: beautiful, worthy, and loveable beyond belief. And yes, totally enough.
And if you don't quite see it yet, this article is for you.
How the Brain & Beliefs Work
One of the foundations of psychology is this: When we form a hypothesis about something, our brain finds evidence to prove it. This is called a confirmation bias.
So if you form the hypothesis that you are not enough, for example, your brain will find evidence to prove it.
You'll look around in your life and find areas where you are lacking. Not because you're actually lacking, but because you already believe so, and your brain is trying to make sense of this belief.
That's just how it works.
So in order to see how amazing you already are, you need to form better beliefs.
And the best way to form a new belief system is through affirmations, which are positive statements that most people label as 'hippie magic.' (Or maybe that's just me.)
Why should you buy into hippie magic? Because affirmations help 'hardwire' new beliefs into your brain.
This is about both magic and science.
Magic and Science
From a scientific perspective, affirmations work because they engage neuroplasticity, which is how your brain continues to shape itself based on what you repeatedly practice. It essentially works like this:
Each time you recite an affirmation, you run a mental loop in your brain. And each time you repeat the loop, it becomes stronger and stronger. And with enough repetition, it can become a mental trait.
For example, repeating the affirmation "I am enough" over and over and over for months will hardwire the belief into your brain and turn it into a mental trait (i.e. you will believe that you are enough). More on this in a bit.
From a magical perspective, reciting affirmations is a spiritual practice that brings you closer to yourself. It's part of your self-care routine that you follow diligently – preferably daily – to keep your beliefs in tip-top shape.
Affirmations are magical because they affirm the love that already exists within you. (Yup, sounds like something a hippie would say.)
Whether you prefer to approach this as a sage or scientist, it doesn't matter. I still love you either way.
The question is, how exactly do we accomplish this?
3 Steps to Change Your Beliefs
There are 3 simple steps you need to take.
First, identify the things that make you question your enoughness. Identify the places where you may feel insecure, lacking, or incapable.
Then, create affirmations that affirm your security, confidence, and capability in those same areas. Turn your focus towards your worthiness, completeness, and abundance.
(If you don't know where to start, Louis Hay has an amazing resource of affirmations to choose from.)
And finally, spend time every single day – without fail – reciting them out loud. Be diligent about your practice because your brain needs consistent repetition in order for change to take place.
If you stay true to your practice, then your brain will adopt these new beliefs. And soon, you'll start finding little pieces of evidence to back it up.
Abundance Is All In Your Head
For example, if you believe that you are unloveable or unworthy (which is devastating and more common than you'd think), then your affirmation could be,
"I am worthy of love. There is love all around me."
Although this may not feel true yet, it will become true in due time because of your brain's confirmation bias.
Eventually, you will notice more loving experiences happening around you and to you. Not because more good things are happening, necessarily, but because your brain is noticing more of them.
And the more we notice our abundance, the more motivated we are to create abundance.
Make the Change
So whatever change you want to see in your life, start by forming the belief first. Form the belief, and watch how your brain finds evidence to confirm it.
Hone your practice and honor the importance of your daily affirmation ritual. Show up every single day and nourish yourself with loving self-talk.
Because you owe it to yourself to see yourself as you truly are:
Beautiful, worthy, loveable, abundant, and absolutely enough.
And it's about time you saw it.