Do cravings make you self-sabotage your weight loss?
Do you exhaust your willpower during the day, only to give in to your cravings at night?
Have you tried to be like Oprah and shut down your kitchen at 7pm (or whatever that rumor was) to prevent yourself from night-eating… with no success?
Yeeaahhhh, cravings can't be shut off like a switch. Not even if you're Oprah.
It takes some psychological finesse to actually get cravings to go away, and that's what you have me for 🙂
If you'd like to stop craving food when you're not hungry, then keep reading because I'm about to share the 3 steps I used to beat my cravings for good.
The first step is pretty standard, but the last two are part of my psycho-spiritual approach (i.e. nothing you'll find written in the glossy pages of Women's Health magazine).
So get ready for some weird advice.
How to Stop Cravings and Lose Weight
If you have cravings, it's likely that you're both physically and emotionally addicted.
Physical Cravings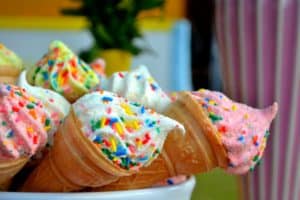 Cravings are a brain-thing just as much as they're an emotion-thing.
Eating unhealthy, processed foods (especially ones that are sweet, salty, or crunchy) floods your brain with dopamine, a feel-good neurotransmitter. The more 'hits' of dopamine you take, the stronger your cravings get.
That's why it's sooo hard to muscle through cravings. Your brain has literally become wired to crave these unhealthy foods, and it's relentless.
Emotional Cravings
When you try to avoid these foods by restricting your diet, it can lead to a binge (and often does). That's how compulsive eating happens: restrict, binge, restrict, binge.
Cravings are also amplified when you subconsciously use food to numb negative emotions. The worse your emotional awareness is, the stronger your cravings will be.
So, how can you stop this annoying cycle?
Step 1: Teach Your Brain to Stop Craving Unhealthy Foods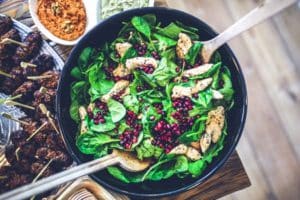 The most obvious step is to clean up your diet by eating mostly whole foods.
This is not about restriction! You'll see why that's important soon, but for now, just focus on choosing whole foods as often as you can.
"Whole foods" means anything that has been unprocessed or minimally processed; like quinoa, veggies, fruit, beans, chicken, etc.
You can usually find these foods on the perimeter of the grocery store, and you will seldom find them in a box.
Eating mostly whole foods helps crush cravings because the less processed foods you eat, the less dopamine your brain gets. And when your brain stops being rewarded for eating unhealthy foods, you will crave those unhealthy foods less and less.
It can be really hard to get started though. Any kind of addiction is literally hardwired into your brain, and breaking the cycle can be tricky.
Luckily, the next 2 psycho-spiritual steps will help make things much easier.
Step 2: Give Yourself Permission to Binge… And You Won't Binge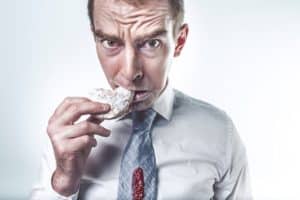 When we DON'T let ourselves have something, we want it bad. (Enter: cravings.)
And when we DO let ourselves have something… suddenly it's much less interesting. (Exit: cravings!)
Knowing this, you can apply reverse psychology on yourself and beat those annoying cravings!
Start by giving yourself 100% permission to eat anything you want… YES! Including that processed junk I just mentioned.
This can be a really scary step for most people. If you've been stuck on the yo-yo dieting train for quite some time, it can be utterly terrifying to "let yourself loose" around the foods that you normally binge on.
But I promise you that if you give yourself 100% permission – not 99%, but 100%!!! – all those seductive cravings will suddenly become REALLY uninteresting.
Self-permission is critical for your weight loss success. I swear by it.
Tangent: The Seduction of Cookies
Are you with me so far?
My psycho-spiritual approach to weight loss can be a little mind-bending sometimes, so here's an example of how this all worked for me.
My Old Dopamine Addiction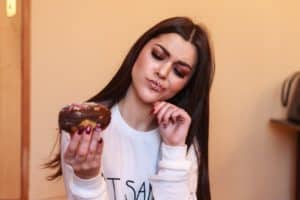 Girrrl that donut is DOPE(amine) huh?
Back in the day, I used to crave sweets ALL THE TIME.
And because I still believed in dieting at the time, I would give myself a daily "allowance" of two 100-calorie pack cookies a day (the most awful, addicting kind of junk you can eat).
My brain was hooked on dopamine, and my cravings for cookies was real.
Each day I would indulge in my cookie allotment… and I always wanted more. I would resist and exhaust my willpower until I finally caved and had more, which made me feel like shit.
The kicker is that those cookies aren't even good -_- they're just addicting (because of the dopamine hit) and seductive (because I wasn't allowed to have them).
Self-Permission Set Me Free
Then, when I finally gave up dietary restrictions and gave myself 100% permission to have anything I wanted… those cookies lost their appeal.
I suddenly found myself thinking logical things like, "I'd much rather have some hummus and feel good than have some cookies and feel gross."
This sounds obvious, but I was only able to be rational in real life (not just theoretically) because I knew that I could have cookies anytime I wanted, if I really wanted!
Self-permission is soooo crucial.
You Still With Me?
If you are rational in your head but lose all logic when cravings kick in, then this process will work for you too!
Just stick with me, because step 3 is the most important.
Step 3 (Most Important): Develop Your Emotional Awareness
When you crave foods when you're not hungry, it's a sign to turn inward.
Because when you really look at what's going on, it's not the sugar or the salt or the crunch that you're after. It's the disappointment that you're trying not to feel. The hurt, the rejection, the pain.
That's why the most important step for getting past your cravings is learning how to feel your feelings.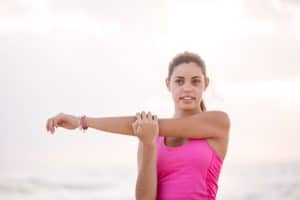 "Waaiiiitttt……how's that going to help?"
Cravings are simply a sign that there's something else going on. Inside, there's an emotion stirring around that you don't want to feel.
Food holds the promise of numbing that feeling, so it becomes seductive. You crave the emotional comfort.
And 99.9% of the time, you don't even know it's emotional. You've used food to numb your feelings for so long that you don't even realize how disconnected you've become.
So the key is to learn how to stop, drop, and feel.
This is the best tool you can use on your weight loss journey: using your cravings as a cue to drop into your feelings.
Whenever I get a craving when I'm not hungry, there's always something uncomfortable there waiting for me. I just have to be willing to stop and feel it.
When I started to practice feeling discomfort instead of comforting myself with food, the whole game changed!
This step is the hardest, so here's a whole guide on feeling your feelings instead of overeating.
Stopping Cravings When You're Not Hungry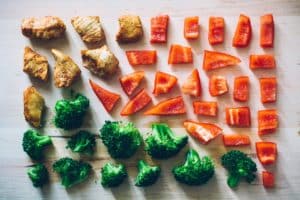 But look, not everyone can go straight from cookies to whole foods; from numbing to feeling.
It took me a while to make that transition. And it will probably take you some time, too.
The key to getting through this process is to follow The Eating Guidelines as best you can, which means only eating when you're hungry and always stopping when you're satisfied.
This is the hardest part, right? Avoiding cravings when you're not hungry?
Luckily, all 3 of these steps will work together to bring you some serious psychological finesse, which will help you think rationally the next time you want a donut at 11pm.
This Is What Being a Badass Will Look Like
With these 3 steps, you can learn how to stop cravings for good; and best of all, it will get easier with time.
As you begin to eat more whole foods, your brain will become less addicted to dopamine and the physical cravings will begin to subside.
When you DO crave unhealthy foods though, you will eat them when you're hungry as per The Eating Guidelines. And you have them guilt-free because they're totally allowed. You have 100% permission to have them.
And since you have permission to have junky food, you want it less and less. Since it will always be there, and whole foods make you feel so much better, you start to make better and better decisions.
And when the cravings roll around when you're not hungry, you'll start to get curious about the emotions that are causing those cravings.
You'll use your cravings as a cue to turn inward, and you'll get to know yourself. You'll get to know all the uncomfortable feelings that have been stirring within you this whole time.
And while it will suck to feel those feelings, it won't suck nearly as much as you think. And it won't suck nearly as much as staying enslaved to your cravings.
All of these good things will compound into something better and better. Soon, you'll be a force to be reckoned with.
You Stuck with Me!
This means you're crazy enough to give this a try. And I promise that it's worth it.
This is the formula that worked for me. It's simple, yet veerrry uncomfortable.
But if you're tired of cravings pushing you into the binge-restrict-binge-restrict pattern, then I hope you'll be crazy enough to give this a try.