What would happen if you combined a New Age 'feel good' practice with hard science in an effort to improve your life?
You'd end up with affirmations.
Whether the concept of affirmations is old or new to you, this article will help improve any area of your life using a simple, scientifically proven method. (Yay, science!)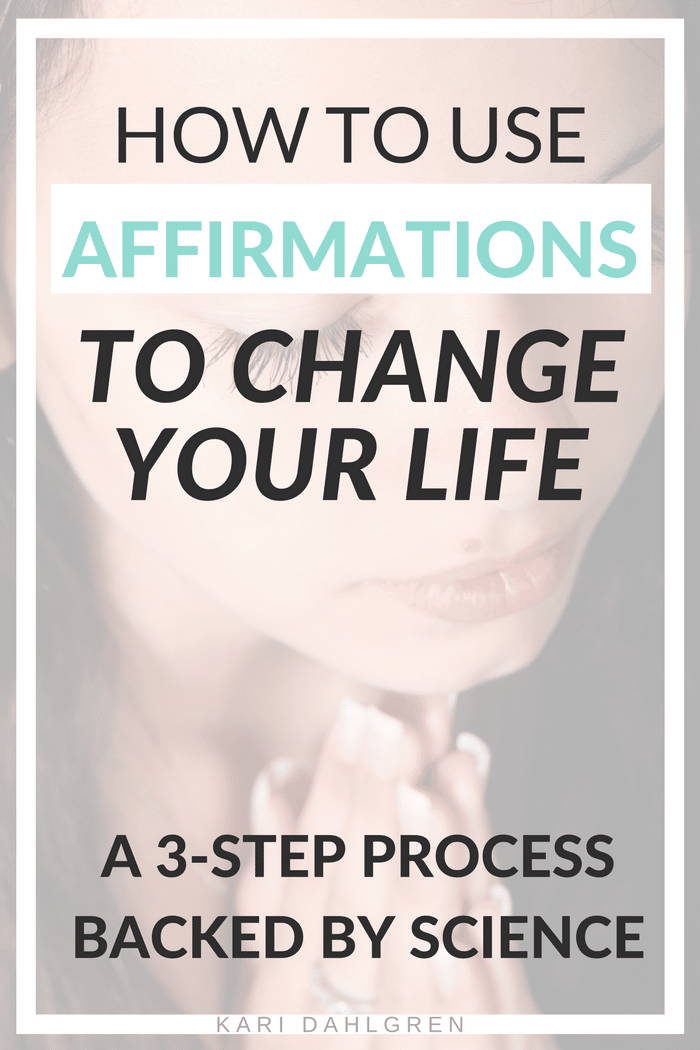 I'll introduce the basics of affirmations and then explain the science behind how it works.
Then at the end, I'll set you up with a practice to do on your own.
What Are Affirmations?
Affirmation are sentences or phrases that you repeat aloud in an attempt to train the subconscious mind to believe something that you want to believe.
For example, "I am a patient person" is an affirmation aimed at retraining the mind to believe that you're patient. Or, "I love every single part of my body" is an affirmation that will convince the subconscious mind that you love every single part of your body.
It sounds like mumbo jumbo at first, but when you experience results for yourself, you will feel the magic.
But Isn't This Just a Bunch of Hooplah?
The science behind affirmations revolves around neuroplasticity, which is the mechanism that your brain uses to rewire itself and form new neural connections.
Neuroplasticity gives us control over our reality by giving us control over how we shape our brain.
Here's how it works: Each time you repeat a thought or action, neuroplasticity helps strengthens the neural pathways in your brain responsible for those thoughts and actions.
You become skillful at whatever you repeatedly think, feel, and do.
So if you constantly look at yourself in photographs and criticize the way you look, for example, then you're wiring your brain to become good at generating self-criticism. Eek.
That's why it's so important for you to pay attention to what you repeatedly think, feel and do – because it will become your brain.
How Affirmations Work
Each time you repeat an affirmation, you are reinforcing those pathways into your brain. In the beginning, your affirmations take conscious effort as your brain begins to form those connections.
By the end, your affirmations will have become part of your brain.
Your affirmations will become part of who you are.
And when you recite affirmations that reflect your highest values (like boosting self-love, self-compassion, generosity, etc.), you will start to embody those values – and it will trickle down into all your thoughts and actions and you will become those values.
For example, if you repeat that phrase, "I love and approve of myself" over and over and over, it will strengthen those connections in your brain responsible for that belief. And with enough repetition, you will start believing that you are loved and appreciated no matter what life throws at you.
Why am I so convinced that it works?
Because I experienced results for myself, and it absolutely changed my life.
How My Life Changed
Like many of us, I used to be a chronic people-pleaser and I was often very critical of myself. This affected my life because I was constantly seeking approval from other people in order to validate the person I wanted to be.
Then I came across a book called You Can Heal Your Life by Louise Hay – which is THE book to read if you want to learn about affirmations – and I tried out some of her affirmations.
Specifically, I started reciting "I love myself" and "I approve of myself" aloud at least 10 times a day. There were some days where I would say it almost a hundred because I really wanted to see results.
And sho 'nuff,  I did!
After about 3 weeks – the same amount of time that it takes to make a habit stick (coincidence? I think not) – I noticed that I was becoming less affected by the opinions of others.
I was interacting with people at work and in other areas of my life and I found myself no longer seeking their approval. I was just living my life… free from the need to seek their validation.
I was pre-approved by myself, and it felt so good!
That's when I learned that we CAN retrain our self-talk. We CAN learn to talk more kindly to ourselves. We CAN learn to love ourselves.
We CAN change our lives – all by simply retraining our subconscious mind to feed us kinder thoughts.
Are you convinced yet? I hope so!
3 Steps to Start Your Practice
If you want to start improving a certain area of your life – or just your life in general – then use these 3 steps to start your affirmation practice today.
Step 1:
Identify any limiting beliefs you may have. An easy way to identify these beliefs is to pinpoint any place where you feel stuck.
Is there a particular area where you feel pain?
Is there a particular thought that makes you depressed?
Where do you want to see change?
Step 2:
After taking time to introspect, write down at least 3 limiting beliefs. Then rewrite them in a positive, opposite way. These will be your affirmations. (An example will follow.)
Step 3:
Repeat each of your affirmations at least ten times a day – ideally 50 times each – and never skip a day. Remember, we're rewiring our brain, and it take serious repetition.
The more you repeat your affirmations, the more your self-talk will improve, and the faster your life will improve.
An Example
Let's say that there's a man who has unfortunately lost hope and motivation to pursue his online business. As his dreams began to fade, he gained a little weight and slipped into depression.
As he investigates his limiting beliefs, he may have trouble pinpointing exactly where he's stuck. But after taking some time to reflect, he realizes that his body image and lack of social support are causing his depression.
With these two problems in mind, he writes down the following limiting beliefs:
I feel like I'll never have vocational freedom

I feel like I don't have any friends or support

I feel like my body is gross and disgusting
Working off these limiting beliefs, he would reverse them into the following positive affirmations:
I have what it takes to create a successful business
I have an abundance of support around me
I love my body exactly the way it is
And if he repeated each of these affirmations fifty times a day, he will notice newfound motivation within himself to pursue his online business and reach out to his friends for support.
He will also start to think more positively about his body.
Why?
A Final Word on Why This Works
Because all change begins with a belief.
We pursue personal development because we believe it will make us better
We feel supported because we believe our friends will be there for us
We go the extra mile because we believe that we're ambitious
Without a supporting belief, there is no reason to change.
And affirmations are the best way to hardwire those beliefs into your brain.
Each time you repeat your affirmations, the connections in your brain responsible for those beliefs become a little stronger. As you continue your practice each day, you will slowly build an arsenal of positive beliefs about yourself and your dreams.
And it will propel you into success faster than ever.
Because you simply believe.
How Do Affirmations Work? – In One Really Long Sentence
Affirmations can convince your subconscious mind to believe anything you want to believe through the magic of neuroplasticity, which only works if you diligently repeat your affirmations – which should reflect your highest values – daily.