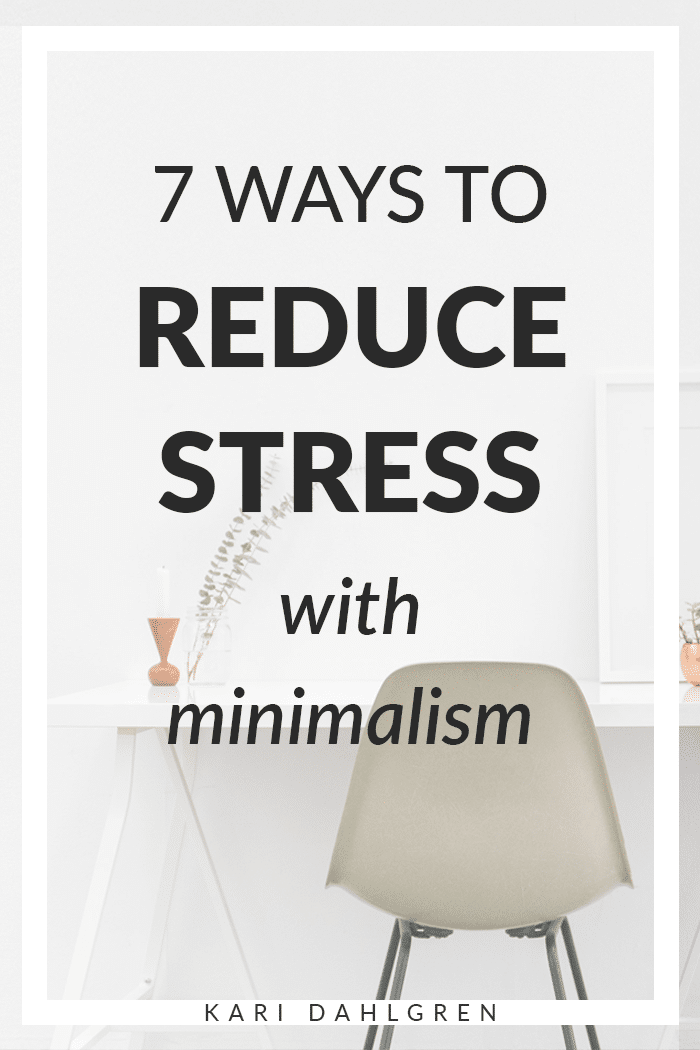 Do you match any of the following 3 statements:
You're stressed out
You don't have enough time to accomplish your goals
Your home is a mess (and to be honest, so is your life)
If any of these 3 statements describe your current (but not permanent) situation, then this post is for you. We're going to turn things around using the power of minimalism.
What Is Minimalism?
I could go on and on about the art and science of minimalism, but the philosophy can be boiled down into these 2 elements:
Minimalism is the intentional promotion of what we value most and the removal of anything that distracts us from it.
Sounds like the perfect recipe for an enjoyable, stress-free life, right? Yes!
Here are 7 ways to start getting your life in order:
1. Get rid of physical clutter like a mad person
Physical clutter is a manifestation of mental clutter. If your house, car, or office is cluttered, then it says something about your inner state of being (i.e. chaotic).
The good news is that cleaning up the physical clutter can help you clean up your mental clutter.
Go through your entire closet, car, and bedroom and get rid of everything that doesn't add meaning to your life. Treat it like a blowout sale – everything must go!
And if this sounds like a chore, don't fret. Once you're done, you will find yourself spending far less time cleaning because there's simply less to clean!
2. Get rid of social obligations (*my game changer)
"Social obligations…" Those two words shouldn't be used together, wouldn't you agree?
Your social engagements shouldn't feel like obligations, and if they are, then it's time to reevaluate how you spend your time.
This was a personal struggle for me. My 'social obligations' were the biggest thing standing in between me and my dreams.
Don't get me wrong – socialization is great. I'm an advocate for fun – I think it's an essential cornerstone of living a life you love and preventing joy eating.
However, when you start to feel like a victim of your social obligations, it's time to take a different perspective.
Things that shouldn't be on your social calendar: spending time with toxic people, attending events that don't generate enthusiasm, doing things purely out of obligation.
Things that deserve your time: coffee with your best friend, dinner with your dearly beloved, an expo for your favorite hobby, actually doing your favorite hobby!
Someone who is mindful of their commitments will find themselves with more time doing more of what they love by simply doing less of what they don't value.
I can contest to this 100%!
3. Declutter your physical objects AGAIN
Chances are, you held on to a lot of unnecessary stuff when you first decluttered. We all do.
Things like expensive clothes, sentimental items, and things 'we might need someday' are all particularly hard to let go of.
But all that clutter in your home is cluttering up your mind. In order to live an easy-flowing life, you need to create physical space around you.
So, dive back in and start subtracting again. GO ALL IN THIS TIME.
And if you need a little inspiration or kick in the arse, read Marie Kondo's famous self-help book The Life Changing Magic of Tidying Up. It was the jumpstart I used to get my life in order.
4. Add More White Space to Your Day
The reason why we feel rushed and stressed and beat down is – pardon the redundancy – because we feel like we don't have enough time. This can be easily remedied by adding more white space to your day.
White space can look like:
A single deep breath before moving on to your next task a work
One minute of silence before you get out of your car and walk into your home
Five delicious minutes of lying on your bed doing absolutely nothing before you tend to your obligations (that you haven't decluttered yet)
The little gaps elongate your day, if you will. They will help you feel less stressed while accomplishing everything you normally do – and maybe more!
Remember, what we put into the little nooks and crannies of our lives are what matter.
By planting more seeds of relaxed space throughout your day, you are setting yourself up to experience more relaxed space in the future.
5. Start a quick morning ritual to the mix
One of the best things I did back when I was decluttering my life was writing down my values and reading them every morning.
This helped remind me of exactly what I needed to say 'no' to and what was worthy of saying 'yes' to.
I highly recommend this tactic for anyone who has trouble saying no because it will give you something solid to ground your reasons in when you inevitably must say no.
6. Manage your time on social media using these two tips
Let's be real: social media is 5% useful and 95% a total waste of time; precious time that we all wish we had more of.
So, what would happen if you started using it 80% less? (Hint: you'd still see the useful stuff, skip the stupid stuff, and end up with a lot more time on your hands!)
And the easiest way to spend less time on social media is by turning off your push notifications and moving all your social media icons off your home screen.
When I did this, the amount of time that I spent online dropped significantly. As a result, I found more time to create a life I love.
7 Create an inviting work (or do-nothing) space
Have you ever seen a picture of a minimalist home and wished that your house looked like that?
There's something about white, empty space that is very inviting. And I've found that clearing off my desk of everything except my computer actually invites me to work. (Who would've guessed?)
Are you avoiding a passion project because you simply don't have the time for it? Tidying up your workstation could be the remedy.
Opting Out of Busy
We live in an age that idolizes busyness, but it's clear that doing a little less can actually improve your happiness, productivity, and sense of enjoyment.
When I decluttered my room, I was impressed by how much more relaxed and put-together I felt. And that sense of calm capability helped motivate me to start this blog.
But I didn't start this blog immediately. Oh no no no, my 'social obligations' kept getting in the way. So I started saying no in order to reclaim my time.
To my pleasant surprise, I never felt like I was missing out. I only really noticed what I gained: calm, purpose, love, relaxation, space, peace, joy, happiness, productivity, life.
It's time to say no to stress
It's time to start clearing some white space so that you can finally breeeathheeeee. Which element on this list resonated with you the most?
Now, GO DO IT.